TV Aerial Installation
---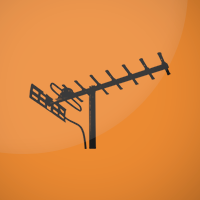 Our engineers can install and supply a wide range of TV Aerials including Analogue and Digital aerials. All our digital aerials are meter tested and are sourced from reputable manufacturers, to ensure you are receiving the best possible services you can receive. Many of our customers choose to have a Digital TV Aerial installed and accompanied by a Digital Freeview receiver providing them with hundreds of channels, with a fantastic range of programmes, completely free of monthly charges, making Freeview the most cost effective route for the majority of our customers.
Another option that customers like to choose is FreeSat. FreeSat comes brimmed to the rim with 150 high quality channels, which also give the viewer the ability to pause, rewind and record live transmission. FreeSat also comes with OnDemand service such as BBC iPlayer & ITV.
If you would like to know more information about the services G.B Aerials provide, then feel free to contact us, or simply fill out the 'callback form' to the right hand side. We look forward to hearing from you.
---
What are you waiting for? Get yourself tuned in and get in contact with
G.B Aerials now. You wont be dissapointed.
Call us on (+44) 0 1482 643379 or (+44) 0 7951 756384
to speak to one of our friendly representatives!
---